---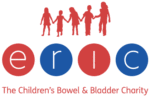 On Tuesday 12th November members of the Axia team attended an autism conference in Stockport. We felt that one of the stand-out presentations of the day was by a continence nurse from the amazing organisation, ERIC. The presentation was called "Getting wee and poo in the toilet.. and obstacles that get in the way".
ERIC is the UK's national charity on children's bladders and bowels. They really are the font of all knowledge with regards children's continence issues. They provide education and advice, including the signs and symptoms to look out for that your child may be struggling with bladder and bowel issues. They provide practical tips on the workings of the body, and what to do to help.
They have amazing accessible visuals and animations on their website to help children to understand their bodies better – https://www.eric.org.uk/
For children with neurodevelopmental differences, it is important that we think about bladder and bowel issues – particularly due to the added sensory and social challenges that may make it harder to process bodily information and then speak up. Further, if a child is struggling with continence or constipation this can play such a massive part in both their physical and psychological wellbeing.
Linda and I attended the talk, and were blown away by how much we all don't (but really need) to know. Did you know that when children (and adults) are incontinent of poo, that this could actually be a sign of constipation? This may feel counterintuitive but it is crucial for everyone to be aware of!
The website provides information for all involved in children's bladder and bowel health – from kids themselves, to parents, professionals and educators. They provide awareness and training, and important information on the legislation and duty of care in schools.
We will definitely be directing people to the ERIC website moving forward and will support where we can. We have taken some leaflets and will be placing these in our clinic rooms. Mostly, we wanted to share the brilliant work they do with you all!!!
Go check out https://www.eric.org.uk/
Happy reading!
Hannah
---
Share This Post: