---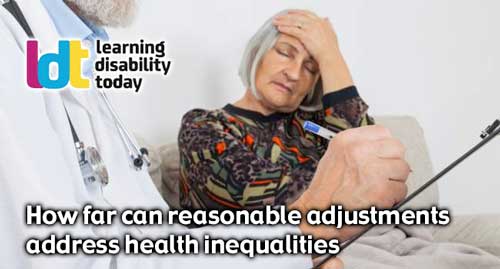 Reasonable adjustments have been trumpeted as crucial to fighting the health inequality faced by people with learning disabilities.
When 12 weeks turns into two years
Isabelle Garnett's son Matthew spent nearly two years under section in a mental health hospital after going for an assessment his family were told should take no longer than 12 weeks. Garnett fought a lengthy battle with husband Robin to get 18-year-old Matthew out of specialist hospital St Andrew's Healthcare in Northampton.*
Reasonable adjustments "can make the difference between the person having a life and not having a life or, in the worst case, between life and death."
In March 2017, Channel 4 Dispatches documentary Under Lock and Key highlighted how the hospital subjected people with learning disabilities to face-down restraint 600 times in just six months. Matthew, who has severe autism and a learning disability, is now thriving in a residential setting.
But his mother says he endured fortnightly restraints and forced injections at Northampton that have left psychological scars. Now his life has improved, he is beginning to share more details of the trauma he suffered. Matthew's experience of what was meant to be a short-term emergency hospital referral turning into a stay lasting years is an all-too-familiar story in autism and learning disabilities.
---
Share This Post: