---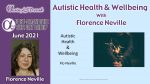 Hi everyone! Thank you so much for having me to talk with you all last week – it was really lovely to chat with you. Thank you also for your wonderful questions (some of which I know I didn't answer very well, for which, many apologies) and your fantastic input into the discussion on your wellbeing strategies.
During the session I scrawled some notes of online resources to send to you. If I have forgotten anything please feel free to drop me a tweet at https://twitter.com/FloNevilleNAT or contact me through my site florenceneville.com
Here is my introduction to cortisol: https://florenceneville.com/an-introduction-to-cortisol/
I can't remember why I wrote "Kapp" in my notes but this book may be of interest to some of you: "Autistic Community and the Neurodiversity Movement: Stories from the Frontline". Edited by Steven K. Kapp.
"Autism + Environment = Outcome" is of course from the lovely Luke Beardon – do read his excellent book "Autism and Asperger Syndrome in Adults" if you get the chance.
The person who asked me about polyvagal theory contacted me directly and knows far more about it than I do so I won't attempt to explain it here!
For more information about high histamine (also POTs and Ehlers-Danlos syndrome) this is a great site: https://ohtwist.com/
And here's a direct link to the https://autismhwb.com/ homepage! From here you can find links to reading about the team, the blog feed, the contact form, the research I talked about and some extra resources. I hope that lots of you will write for us – do get in touch!
Thank you again and I hope to speak to you again soon!
Flo
Florence Neville


PDSG Guest Speaker
---
Share This Post: