---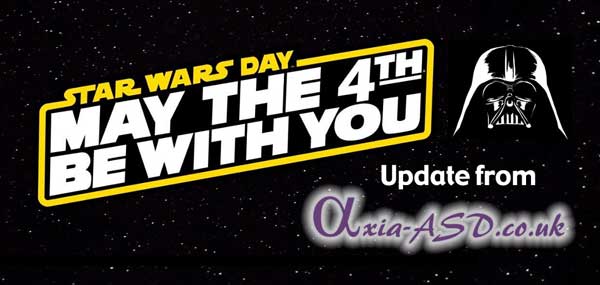 I asked the team who are working tirelessly to keep us going, what ideas they might have for todays bulletin, as I don't want to keep repeating that it's been another brilliant day we've had here at Axia, and have received more referrals from North Wales and Alder Hey which is brilliant.

 

Evie suggested something on Star Wars and provoked a very interesting discussion between Renwick and Calvin, some of which I followed, other bits I didn't. Perhaps Ren can explain…
A long time ago, in a galaxy far away….
The first Star Wars Day since the new trilogy was concluded in Dec 2019, and with series like The Mandalorian having been released on Disney+ (with plans for a second season down the line), and side stories such as Solo and Rogue One, the franchise has received a lot of attention in the last five years.
With so many recent additions to the series it can be easy to feel 'burnt out' with the amount of content we're being handed, but now is also a good time to reflect on what we have received. Perhaps it's time to come up with a new watching order for the series?
The Jedi Order of Red Hill House have been working tirelessly to maintain balance in the force against outdoor threats, with Master Atkinson creating new Top 10 lists, as well as an upcoming review for Animal Crossing: New Horizons….
Maja pointed out that she has typed Calvins next contribution to the site, which is 10 good films by bad directors. He's also trying to work on some other projects including maybe a second Anime book and a review around animal crossing. Renwick and Calvin are also still working on the streams, and along with Reese and Elliot have continued with the Anime Amigos.
Dr. Linda Buchan
Consultant Clinical Psychologist
& Director of Axia ASD Ltd.
---
Share This Post: