---

Mental health lessons are coming to the national curriculum next week
It's been a long time coming. Now's our chance to teach each other well.
Over 1,000 Mental Health Today readers contributed to our research on how mental health lessons should be planned.
Now you can explore our range of trauma-sensitive resources and articles.
You can also read MHT's 'anti-glossary', essential if you want to avoid confounding stigma and symtoms in and out of the classroom.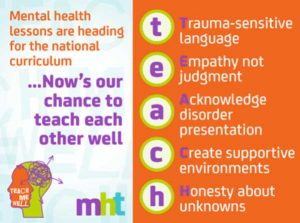 Insights
Premium content
Discover more
Continue learning about what good looks like in mental health care. Explore the range of mental health books published by Pavilion Publishing and Media, including Mental Health and Well-being in Primary Education.
Mental health education is coming to the national curriculum in England and Wales in September. Find out how to design trauma-sensitive lessons through the MHT Teach Me Well resources featured here.
Know the signs and support options for various mental health conditions through watching the videos and reading the articles in our Disorders Explained information hub.
Keep supporting mental health progress.
Website | Twitter | Facebook | LinkedIn | Bookstore
From Barney and the Mental Health Today team.

---
Share This Post: