---

Understanding the image – collective trauma, and the psychological impact of racism
This year racial violence has been told through a reel of media-saturated images. However, these images are not silent, but they pose questions, both for America and also for the UK.
How can we understand racism from a psychological point of view? What is a possible answer? And, what is the mental health impact of discrimination for Black people living in the UK?
To answer these questions, Mental Health Today spoke to psychologist Dr C. Jama Adams, and Victoria Cabral from Lambeth based mental health organisation Black Thrive.
Read more…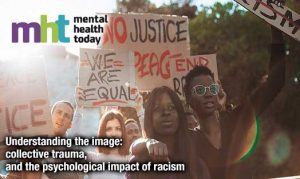 Insights
Premium content
Discover more
Continue learning about what good looks like in mental health care. Explore the range of mental health books published by Pavilion Publishing and Media, including The Acceptance and Commitment Therapy (ACT) Diary 2021.
Free online book launch of Schema Therapy for Children and Adolescents is this Fri 4th Dec 8-9am GMT. Schema Therapy goes back to the childhood origins of many psychological problems. Register for the free webinar here.
Know the signs and support options for various mental health conditions through watching the videos and reading the articles in our Disorders Explained information hub.
Keep supporting mental health progress.
Website | Twitter | Facebook | LinkedIn | Bookstore
From Barney and the Mental Health Today team.

---
Share This Post: