---
A plea from the National Autistic Society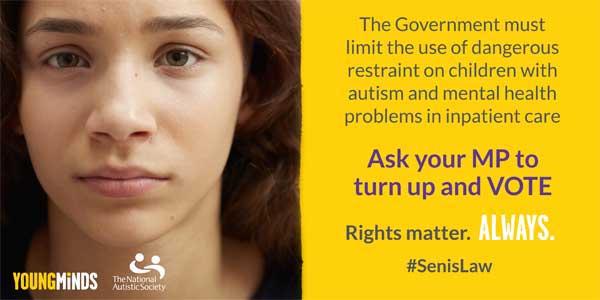 On 3 November, your MP has the chance to help change the law. You can make sure they do.
You have an urgent opportunity to help change the law to limit the use of dangerous restraint on children and young people in mental health hospitals. Take action now and email your MP.
In February we launched Always, a joint campaign with Young Minds. Nearly 10,000 of you signed our petition calling for strong, enforceable rights to protect children in mental health hospitals, and their families, when they need it most. Right now, we have an opportunity to change the law to protect vulnerable children in mental health hospitals. Practices like face-down restraint can be very distressing and in extreme cases, can also lead to serious physical injury.
You can influence a vote in Parliament.
On 3 November, Steve Reed MP is taking the Mental Health Units (Use of Force) Bill to Parliament. This will be a vote in Parliament which could limit the use of restraint on children and improve staff training in mental health hospitals. The Bill is being referred to as Seni's Law, named after a young man called Seni who was tragically killed in a mental health unit after being physically restrained.
We need as many MPs as possible to turn up on the day to vote to make sure this Bill goes through to the next stage. Every MP will count. Will you take action by emailing your MP and asking them to turn up to the vote?
Email my MP >
Good quality, safe care is a lifeline to many children with mental health problems. But for others, including some on the autism spectrum, their mental health can get worse in hospital and they and their families can struggle to get help that is right for them.
Rights matter. Always. Stronger rights for children and their families mean they always receive the support that's appropriate for them. Make sure your MP knows that.
---
Share This Post: