---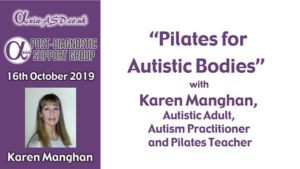 "Pilates for Autistic Bodies"
Wednesday's talk was an introduction to Pilates, specifically for the Neuro-diverse, given by Sarah Manghan, Autistic Adult, Autism Practitioner and Pilates Teacher.
Pilates is a low impact form of exercise which aims to strengthen the body and can improve posture, muscle tone, balance and joint mobility, as well as relieve stress and tension.
Karen has studied the links between Autism and Hypermobility, which often leads to autistic people developing postural issues or pain conditions. Karen has a number of autistic Pilates clients who have benefited from Pilates in improving body awareness, co ordination and general well being.
---
"Pilates for Autistic Bodies"
Axia Post-Diagnostic Support Group
October 2019
Karen Manghan
---
Share This Post: