---
Minutes of the Thirty Fourth
Post-Diagnostic Support Group
5th December 2018
Today's group was well attended with over 40 people and one assistance dog
The speaker was Florence Neville (www.florenceneville.com) who gave an extremely interesting and engaging talk on "Sugar, Sleep, Stress and the Spectrum" which should be available on our website in the coming days.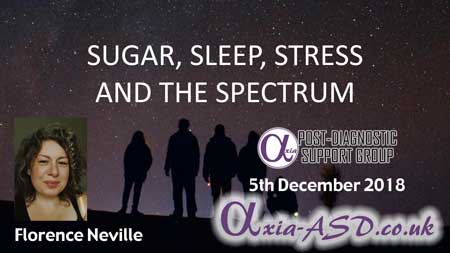 After the break Kallum from the SEAT sales team came to show us one of the cars available from SEAT through motability. He went through the prices, what cars were available and also spoke about how a lot of people do not know they are eligible for motability. He left business cards, leaflets and other information so if you didn't get a chance to speak to him and would like more information, you can pick these up at the next group.
The Christmas meal will now be more of a get together in the New Year. If you are interested please email amy@axia-asd.co.uk and she will let you know more details.
Next group is Wednesday 30th January 2019 with a talk entitled
Atypically Autistic – 'You don't look autistic to me'.
---
Share This Post: