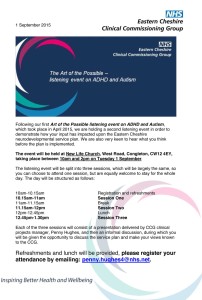 We have been asked by East Cheshire ECG to share their new poster for the next of the CCG 'The Art of the Possible' listening events, regarding autism and ADHD services in Eastern Cheshire (here), and advise people to please register their interest in this event by contacting Penny Hughes to let her know which session you would like to attend. This will apparently be particularly important if you would like to stay for lunch.
They wish the event to meet the needs of all attendees, so you are welcome to come for just one session, or to stay for the full day. It would be helpful if you could arrive 10 minutes before the start of your session, so you will have time to sign in.
They are currently finalising the agenda, plus additional information about the venue, and will send these documents out to those who have registered their interest, by the end of this week.
If you have any further queries or concerns, please don't hesitate to contact Penny.
Share This Post: