---
Another great day here today at Axia with 5 clinicians carrying out excellent work.

 

As you will be aware, if you have been reading our daily updates, we are proud to have continued operating during this difficult time. It has meant some changes to the way we usually operate but we felt it necessary to adapt and continue to provide assessments for those families and individuals who wanted to access them. Dr Hannah Williamson has written an article on behalf of the service to discuss how we were able to stay open and what the impact of this has been.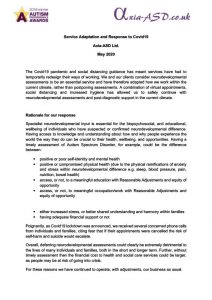 This article

will be followed by a survey to gain people's views and experiences of accessing our service during this time.

 

As usual, Calvin and Ren will be live streaming tonight at 7:30pm. The game will be 'Spyro 3'.
Dr. Linda Buchan
Consultant Clinical Psychologist
& Director of Axia ASD Ltd.
---
Share This Post: