---
Sadly, Axia have had to suspend our Post-Diagnostic Support Group meetings this year, no guesses as to why!

 

However, in a bid to stay in touch with the group and keep everyone's spirits up, Linda kindly performed the presentation intended for our June PDSG, whilst Calvin and Renwick discussed what they were doing during the lockdown.

 

We really hope you enjoy our offering this month, and we look forward to producing more virtual presentations in the coming months whilst our normal meetings are being interrupted.
Dream


Guest IT Consultant
---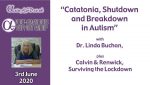 "Catatonia, Shutdown and Breakdown in Autism"
Dr. Linda Buchan, Clinical Psychologist and Director of Axia
There is some evidence that at least 17% of the Autistic individuals will experience catatonia at some point in their lives. The term 'catatonia', although first mentioned in 1874, remains misunderstood.
This presentation will try and clear up some of the misconceptions, describe catatonia and look at the potential overlap with Autism. There will be a focus on looking for the early signs of a catatonic episode and what can be done to help Autistic individuals experiencing catatonia.
---
"Catatonia, Shutdown and Breakdown in Autism"
Axia Post-Diagnostic Support Group
June 2020
with Dr Linda Buchan

---
Share This Post: