---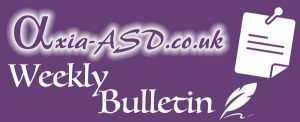 Another busy week here at Axia with our clinicians carrying out excellent work.
Last Friday was the annual 'Axia Away Day' which was a fantastic event attended by many of the Axia Team and Associates, including some people joining us virtually. It was a chance for us to discuss lots of ideas, many of which we will be taking forward very soon. You will be able to hear all about them in our next Post Diagnostic Support Group presentation in December. However, Dream did post about one of the projects we will be doing: 'Axia's Digital Story Project.' If you haven't had a chance to watch Dream or Sheena's stories yet, it is well worth making time to do so. They are brilliant! There will be more of those coming next year. A big thanks to both Dream and Sheena for sharing your stories with us.
We also posted a link to 'Discover Social Skills' following the 'Away Day'. We were joined my Adam Kirkpatrick, who made some really interesting contributions to the day. He is clearly very passionate about what he does and puts a huge amount of effort in to learning about the interests of the young people he works with. Thank you again to Adam for being a part of the day.
This week we were contacted by the 'Parliamentary Review' team as they had featured us in an online 'Leadership Round Up', which is an update of what businesses who were included as examples of best practice have been doing. You can read about us in the post: 'Axia ASD Noted in Leadership Round Up.'
Tomorrow, Saturday 10th October, is 'World Mental Health Day 2020'. This year's theme is 'mental health for all'. Read our post for the link to 'Mental Health Foundation' website to find out more about how to get involved or for advice.
Today we posted an update from 'The National Autistic Society: Welcome to Autism Practice' which has links to some interesting stories and details of training events and programmes. As always, you can find out about how you can support this vital charity by visiting their website: https://www.autism.org.uk
Calvin reviewed 'Super Mario 35' this week. There will be no film review today as he took a break from the cinema to attend the 'Away Day' but this week he will be watching 'Akira' which has been released in 4K. He has reviewed this film before but is looking forward to making comparisons between this and the original, which you will be able to read this time next week.
Calvin and Ren streamed, as usual, this week, continuing with 'The Last of Us: Part II' on Tuesday. They will be streaming again later at 7:30pm and the game will be 'Crash Bandicoot 4'.
I wish you all a lovely weekend.
Company Secretary and Educational Lead
---
Share This Post: