---


In anticipation of our forthcoming Post-Diagnostic Support Group and given the fact there were 45 attendees at last month's meeting, we are setting the room up slightly differently in order to accommodate larger numbers. The chairs will be set out in rows rather than a semi-circle.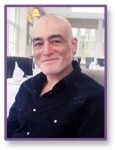 In addition, Dr Luke Beardon who is speaking at our group on 24 May has invited people to ask individual questions.
Should you wish to ask a question please post it in the comments section for Luke to consider his response prior to the meeting.
Dr. Linda Buchan
Consultant Clinical Psychologist
& Director of Axia ASD Ltd.
---
Share This Post: